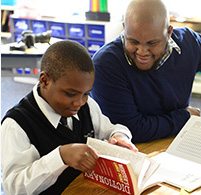 For more than 15 years, The Titusville Academy has been committed to a school-wide student uniform program.
Research has shown that students who wear uniforms are more likely to achieve higher grades, have higher self-esteem, and have better behavior. New studies have suggested that the use of a school uniform can decrease gang involvement and bullying, increase school safety, and improve attendance.
"Just think about what happens when a team suits up before a game," said Elford Rawls-Dill, TTA Curriculum Supervisor. "There is a deep sense of loyalty. The school uniform is a form of unity in the school – it helps build cohesion and school identity. Our uniforms distinguish each student as part of the community of learners here at The Titusville Academy. Students build a deep sense of pride," he added.
On a very practical level, a school uniform saves time and makes it easy for students to know what to wear. It reduces competition we see so often in other settings, and can help bridge the socio-economic gap between students.
The school uniform at Titusville Academy is a simple one – dark blue or khaki slacks, a navy blue collared shirt and the option of a sweater or vest.
Support a Student in Need of a Uniform
Your donation to The Titusville Academy Uniform Program supports the provision of school uniform items or complete school uniforms to needy students who cannot afford them. The cost of an individual student's complete uniform for the school year is estimated to be approximately $150.00. Click here to support the TTA Uniform Program. Your donation of any amount will be dedicated to help with this effort.