The Titusville Academy (TTA) is an approved private non-profit coeducational special education school for students with learning and behavior difficulties.

These difficulties may prevent students from succeeding in a traditional classroom setting.

TTA believes all students can learn and succeed given the appropriate educational environment, therapeutic approach, and supportive staff.
Our Mission

TTA's mission is to provide each student with the optimum opportunity to enhance their academic abilities as well as integrating the social and emotional development of each student into the total educational program.
---
TTA provides a non-competitive, individualized educational experience for children in grades Kindergarten through 12. In accordance with student needs, we offer self-contained and departmentalized educational programs. Instruction is provided in small group settings and one-to-one when appropriate. Our dedicated staff consists of special educators, clinical social workers, and highly trained paraprofessionals.
TTA provides an individualized educational program for each and every student, following their Individualized Education Plan (IEP).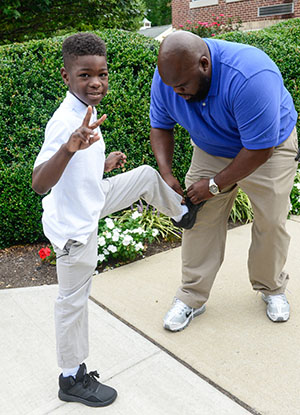 Each TTA classroom has a low student/teacher ratio and is a warm, safe, and inviting learning environment for every student. All classrooms are run and staffed by highly qualified, fully-certified instructors, teaching interdisciplinary units aligned with the common core. Multi-sensory teaching approaches promote and capitalize on the strength of each student's learning style. Click here to learn more about our academic curriculum.
TTA classrooms are equipped with state-of-the art educational technology. Click here to learn more about classroom technology.
Our professional clinical staff is dedicated to ensuring that social and emotional development is integrated into each student's total education process. The school's behavior management system is based on building a positive environment. To this end we utilize Guided Group Interaction (GGI) to modify interfering behavior. GGI is a science-based group process that utilizes positive peer group pressure to leverage normative behavior. Click here to learn more about our behavioral support strategy.
School-wide values and student norms focusing on building effective relationships and learning are routinely emphasized and reinforced. Click here to learn more about our values and norms.
Our academic program focuses on preparing our students for post-secondary opportunities, including four-year college, community college, technical training, military service, and direct entry into the workplace and future careers. At the same time, a key objective of TTA's comprehensive academic, behavioral and social program is to provide our students with the skills they need to return to their respective schools within two or three years.
For more than forty years TTA has proudly helped students with learning and behavioral difficulties find success in their academic work, social lives, and careers. Click here to learn more about TTA's history.